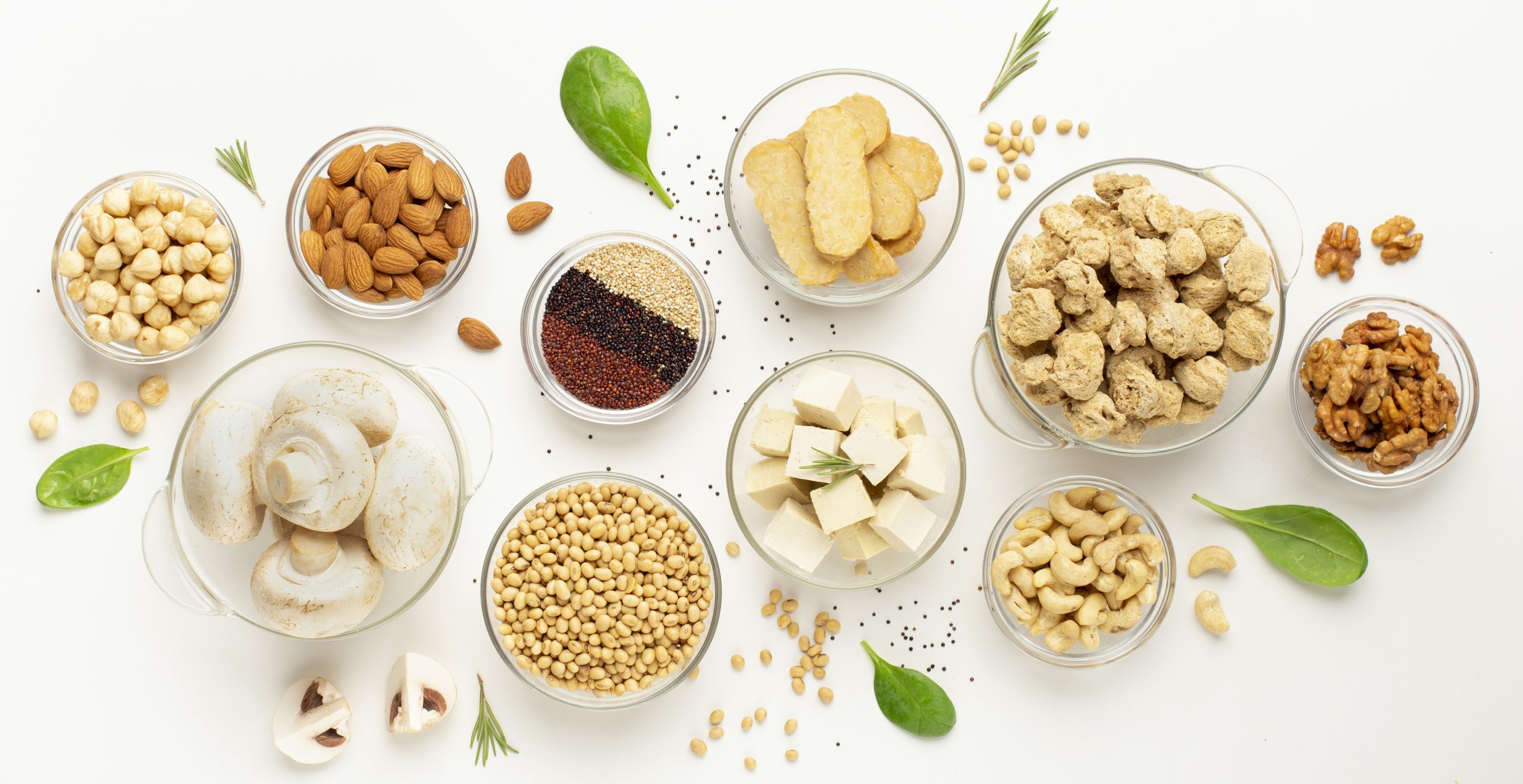 To achieve meat-like products, plant-based alternatives rely on three manufacturing steps: crop development, ingredient optimization to get rid of the unwanted parts of the plant, and end product formulation and manufacturing to create the texture.
A need for developing and optimizing crops for protein content, quality, and function, and cost-efficiency. 
Both historical crops used for plant-based alternatives such as soy and wheat and newer crops like pea and potatoes have been optimized for other purposes than protein production (oilseed, starch,…). As such, they don't necessarily have the best protein content, composition, ease of isolation, solubility, and organoleptic properties. In addition, the increasing variety of plant-based products (meat, dairy, eggs, seafood alternatives…) requires a broad range of ingredient functionalities (solubility, water holding capacity, gelation,…) and thus crop properties. For example, protein in plant-based milk will require a higher solubility than what is needed in meat alternative products.
For novel proteins, another challenge is the cost and limited supply due to the low volume of production or the lack of suppliers. Last but not least, plant protein properties can be highly dependent on the growing location and weather conditions inducing variability in the manufacturing process.
To answer these challenges, a wide variety of novel sources of proteins including high-protein beans, seeds, and grasses can be leveraged. For example, the start-up Spero Foods relies on chemical and microbiological processes to turn sustainable and healthy ingredients such as seeds into dairy and egg alternatives. One of Spero's focus is to achieve price parity by 2023/2024 thanks to the use of low-cost ingredients which are already available in the supply chain and automation of their process. Tate&Lyle has recently invested in the start-up ProLupin which develops protein ingredients from blue sweet lupin. Roquette has recently launched in Europe a fava bean protein as part of an effort started in 2016 looking at 40 types of different new proteins. In Canada, the Saskatchewan Food Industry Development Centre is testing a wide range of alternative ingredients from chickpeas, lentils, beans, peas, hemp, and sunflower to canola mustard, crickets, mealworms, algae…
In addition to these considerations, sustainability and more specifically impact on soil health is a growing criterion. For example, Roquette highlights the values of pea crops that can increase the yield of the next coming crop by 10 to 20%.
Ingredient optimization and product formulation to optimize taste, texture, and nutrition.
To answer the broad applications of plant-based proteins in different categories, players like Roquette are developing a line of multiple ingredients from a single crop like pea (Nutralys). However, this diversity is still in its early stage and protein conditioning must be improved.
To be used as an ingredient, most source plants must be milled and processed into protein concentrates (around 60-70% protein content) or isolates (about 80-90% protein content) and other fractions (starches, fat,…). This approach of fractionation and reconstitution (for the formulation of the final product) decreases the variability but still poses challenges in terms of efficiency (and thus cost) and sustainability (energy and water consumption, waste of co-product,…). The process itself can produce high variability across commercial ingredients.
To obtain a fibrous, meat-like texture, the most common processing method as of today is extrusion. However, extrusion is energy-intensive, can impact the nutrition quality and consistency of the ingredient, requires significant investment cost, and can be limited to address a wide variety of textures. Therefore, complementary processes are currently used and developed such as stretching, kneading, press forming, folding, layering, shear-cell processing, and 3D printing. Some of these techniques such as 3D printing still need to address scale-up issues.
To achieve the right nutrition and organoleptic profile, the plant-based milk company Califia Farms blends several sources of proteins and works with a great variety of products including pea, flax, sunflowers, mushrooms, hemp…
The appropriate ecosystem to support start-ups in this field
According to Ag-West Bio, some of the key challenges identified by the Saskatchewan region for start-ups in this field in North America to design a successful accelerator program (the Global Agrifood Advancement Partnership) include:
the need for longer incubation periods than what is traditionally offered (1-3 years instead of 3-4 months) to take into account the longer development times than many other technologies
Limited investment from accelerators
Lack of scale-up opportunities
The public acceptance which can occur at late-stage
Lack of well established regulatory pathways
The Saskatchewan region in Canada is taking advantage of the alternative protein trend to move from exporting crops (yellow peas, fava beans, quinoa, canola,…) to plant-based ingredients thanks to a dynamic innovation ecosystem.