In the last few years, Erdyn performed several studies dealing with biological solutions for agriculture. This developing trend has been noticed at both research and industrial levels, with benchtop innovations being increasingly scouted by big industrial companies.
Biological agriculture is a process of eco-friendly farming without the use of chemical pesticides and fertilizers. Biological solutions include innovative agronomic practices, monitoring, digital, mechanical and physical biotechnologies aiming at reducing the use of chemicals.
The global agricultural biologicals market is estimated at 10 Bn$ and is expected to reach 18,9 Bn$ by 2025, growing at an annual rate of more than 13%[1]. This fast-growing market is mainly driven by the consumer's demand for safer foods from "the field to the fork", but also by an increased consciousness about the impact of chemicals on human health and the environment.
http://[1] https://www.marketsandmarkets.com/Market-Reports/agricultural-biological-market-100393324.html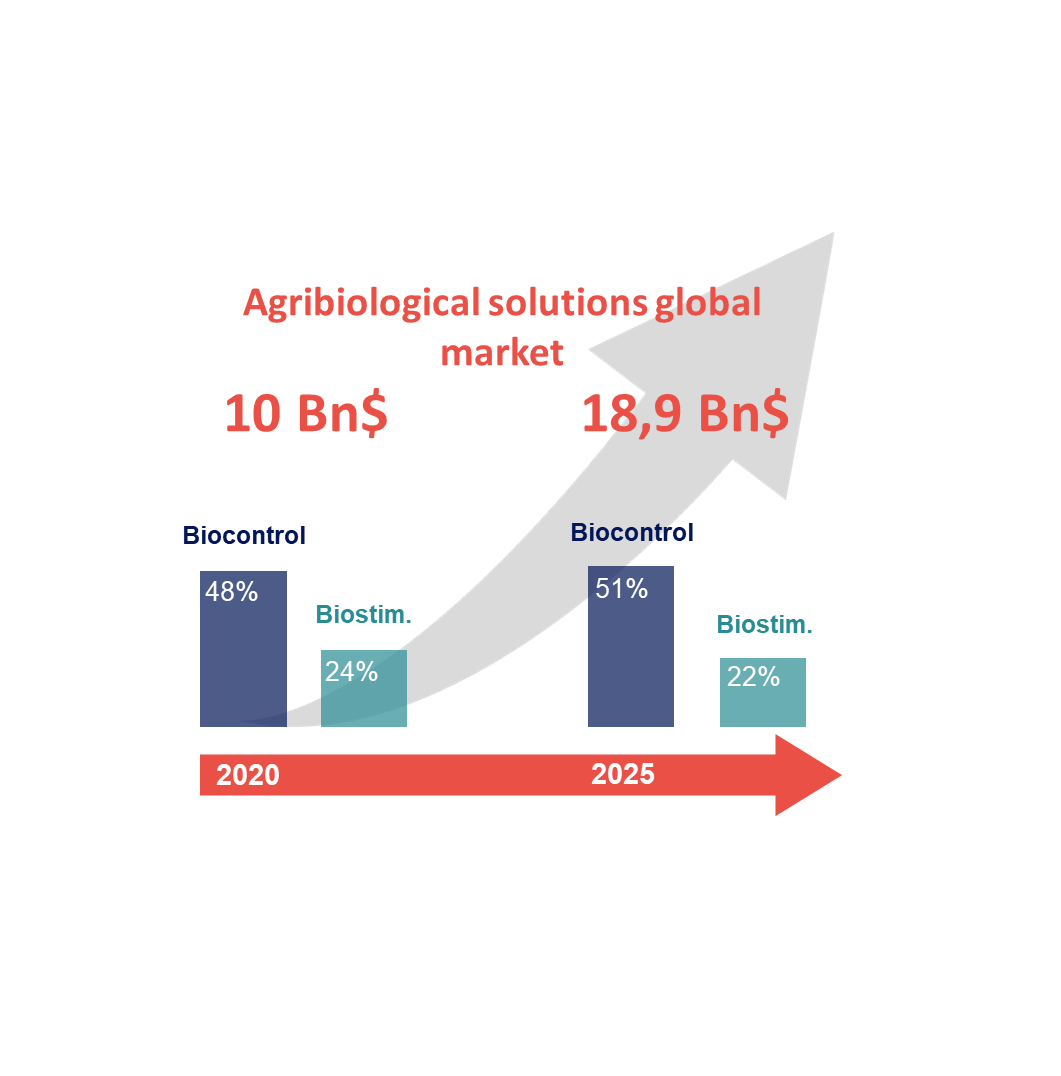 Biological solutions have emerged with 2 main applications:
Biocontrol solutions, used to manage pests, weeds and diseases in agriculture as well as home, garden and forestry. Biocontrol includes biopesticides, bioinsecticides, biofungicides and bionematicides and can be provided as microorganism-, macroorganism- or biochemically-based solutions.
Biostimulants, which are substances or organisms used to stimulate the natural processes of plant nutrition. They can be used to improve plant nutrient utilization efficiency, abiotic stress tolerance, quality characteristics or to increase the availability of nutrients confined in the soil or rhizosphere.
This market is fragmented, with several small companies occupying a large market share. The entry of global companies on the market has an impact on the business model structure for other players. Current key players in the market include BASF, Syngenta, Marrone Bio Innovation, Valent BioSciences, Agrauxine, Isagro and Arysta life Sciences, but also start-ups such as M2i life sciences, which recently raised 60 M€ with the objective to become world leaders on the pheromone biocontrol market.
Biocontrol solutions occupy the largest share. On a global scale, the biocontrol market is worth 3.6 billion euros. The NORAM zone is the largest market, followed by Europe[1]. Those two regions are characterized by the presence of many R&D firms, with a high capital investment and a particularly high demand for organic farm products. Biocontrol strategies are used to protect several varieties of crops, mostly vegetables and fruits (about 75% of the market).
[1https://www.usinenouvelle.com/article/trois-chiffres-pour-comprendre-le-marche-du-biocontrole.N921754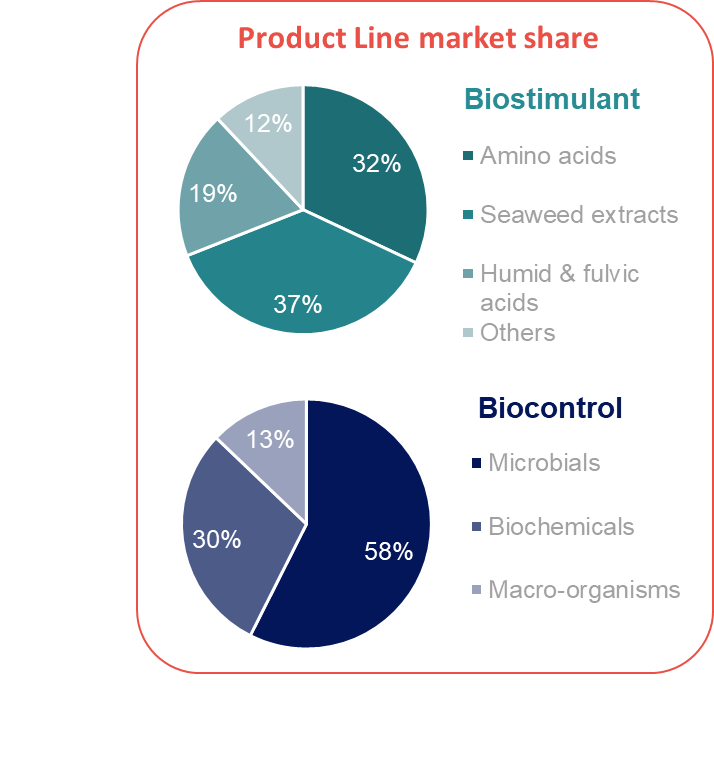 Compared to biocontrol solutions which are directly comparable to chemical control solutions, biostimulants appear as an additional solution that is not directly substituting any existing one. Indeed, intellectual property is still low on these subjects, and the regulatory aspect has long been unclear about them. Recently, the EU has published new guidelines for biostimulants, providing an official framework and a clear definition related to their functions. This new regulation will be applied by July 2022 and is expected to clarify the market for both industries and end-users[1].
[1] http://www.bpia.org/wp-content/uploads/2018/03/Biological-Products-Markets-Around-The-World.pdf