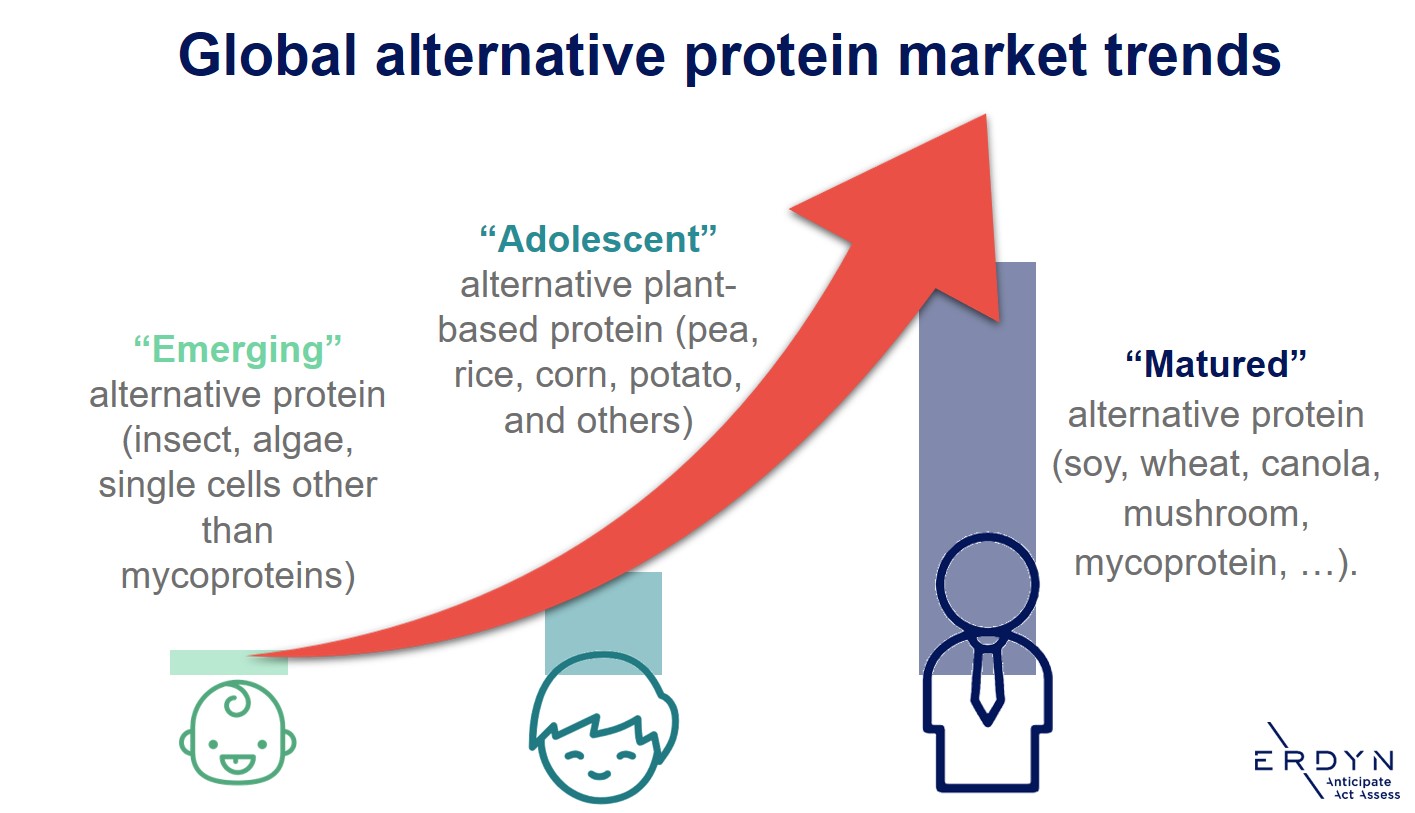 In the past few years, Erdyn has realized over 15 assignments in the field of alternative protein sources for start-ups (Ynsect and Hari&Co for example), SMEs or large international companies (confidential names).
Proteins and alternative proteins are used by various industries: biotechnology and pharmaceutical industries, cosmetics industry, agriculture industry and the food and feed industries. In the food/feed area, alternative proteins are mostly used in "substitutes" products such as meat- or dairy-analogs, in nutritional complements, or as texturing agents (to modify solubility, emulsification, foaming and gelling).
Global demand for alternative protein is booming and will increase by 20-25% by 2023*. Therefore, markets are growing. Moreover, finding alternative proteins appears to be a necessity to feed the increasing number of living beings on earth (Humans and animals).
The large share of this market is mainly attributed to developing urbanization with new consumer aspiration including:
expanding vegetarian and vegan population.

growing consumers' desire for

"environmentally sustainable"-products: their aim is to reduce their carbon footprint by eating more "eco-friendly" proteins.

spreading consumers' desire for clean label products.
Therefore, non-animal alternative food products occupy increasingly large spaces in stores. Companies that positioned themselves on alternative food products are registering high growth due to the demand. For example, Impossible Meat and Beyond Meat, which manufacture meat substitute are revolutionizing the field with their products.
The global alternative protein market can be divided in three categories:
"matured" alternative protein such as some plant-based proteins (soy, wheat, canola, mushroom, …) and some single cells proteins (mycoprotein). They currently dominate the market, owing to higher consumer acceptance level, presence of large number of manufacturers and their high scale of production, lower cost than other types of alternative protein, increased demand for plant-based products, accessibility of raw materials, and large number of applications in various industries.

"adolescent" alternative plant-based protein (pea, rice, corn, potato, and others). They are increasingly used in alternative food products.

and "emerging" alternative protein (insect, algae, single cells other than mycoproteins). They are expected to witness a significant growth, because of the high nutritional value of insects, increasing demand for novel food products, and environmental sustainability with production and consumption of insects. As the market is currently at an early stage, many companies are start-ups. It is then difficult to predict among the emerging sources which ones will be the future mainstreams.
In France, companies' consortiums such as Protéines France bring together major actors of the alternative proteins field (from startups to large companies) to promote the development of these markets.
*Market research report from Yahoo finance